---
As Compiled by Sports Editor Bubba McCalister and his brother Dorris
---
Cow Patty Tossing Slated For May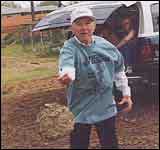 The smell of competition is in the air as the 53rd Annual Prater's Creek Cow Patty Tossing Contest is set for Saturday, May 16. This year's competition is shaping up to be the best ever, with contestants from all over the Upstate signing up to vie for the Golden Patty trophy.
In the competition, accuracy and distance are important, but the amount of moonshine consumed is equally important. Five time champion Doug "Dung" Dungy will be trying to recapture the title.
Dungy lost the title last year, even though he scored the highest in distance and accuracy. A post competition blood test showed Dungy to be cold sober, and was immediately disqualified.
"Well, my doctor told me all the training and practice was killing my liver" Dungy told The Gazette. "My wife stayed on my back to quit drankin' and trainin'. So I did. But then we's watchin' a pro football game and this fella was riskin' permanent damage to hisself by playing the game, but he said his competitive fire burned too dang hot.
My wife said she'd be back 'after while'. When she got back she's totin' a big ol' jug of Grandpa's elixir and she told me to get to drankin' and to go outside and fling some cows**t!"
Prater's Creek Annual Spring Tubing Race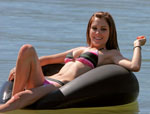 The 33rd Prater's Creek Annual Tubing Race will be held Saturday, May 23. It's always loads of drunken fun and bared breasts, bringing participants and spectators from as far away as Clemson. "Oh, we don't charge an entry fee for them Clemson coeds" Mayor Allen Jones said. "They race for free."
The entry fee is $5, which gets you an inner tube and a jug of Grandpa's finest. The object of the race is not just to finish first, but also to finish the jug of elixir, which never seems to be a problem.
Fishing In Dried Up Hartwell Lake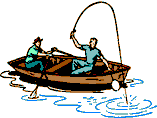 Well the lake is down almost 16 feet. Many boat ramps are closed because of the low water levels. Long submerged old highway bridges are now seen for the first time since the area was flooded when the lake was built in 1962. You can see the sidewalks that led to the houses in the old Milliken- Defore mill village.
But, there are still a few bass to be caught. Of course, if this keeps up evolution may be accelerated and the bass may grow legs so they can walk on the abundant shoreline.
Until they do that, you can catch hybrid and striped bass by trolling major creeks using umbrella rigs, especially in the Coneross area. Look for the birds to lead you to the bait and fish.
The recent up and down temperatures have
slowed down the largemouth bass a bit, but you can still have luck using spoons, crankbaits, and drop shot rigs in 10-30 feet of water of secondary points at the mouth of creeks and rivers.
While you're out there, getting Zen to the sound of your trolling motor, say a prayer for rain. The lake desperately needs it. Thousands of dollars are being lost because of the drought and it's effect on the tourism that sustains many of the little stores that sell fishing supplies.