The Legend Of The Drovers
Prater's Creek, South Carolina, a farm rich town located in Pickens County, is home to The Drovers Old Time Medicine Show.
Dr. Ignatius J. Trundell, like his forefathers before, has been working the farm, growing corn to be ground and made into liquor, er I mean elixir for many, many years. When it was time to hit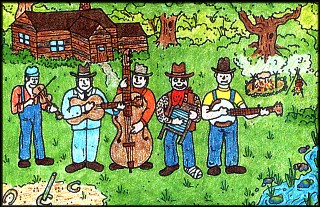 the medicine show trail, Uncle Carl and he would hook up 'Ol Sparky the mule, and head out selling their elixir and playing bluegrass. With Dr. Trundell on guitar and Uncle Carl picking the banjo, they'd hit every little city, town, and hollow within 500 miles. They'd pick and sing for the people and cure whatever ailed the audience. Dr. Trundell's daughter had three boys named Dalvin, Homer and Clovis.
The oldest, Dalvin took to playing the bass when he was so small he had to stand in a chair to play. When he wasn't thumping on that bass he had his nose stuck in some book. Dalvin was always known as the "smartest grandson", which ain't saying much.
Clovis' beginning was a tragic one. He didn't adapt to everyday life like other kids. Being so different caused the doctors, neighbors, and the preacher of the First Baptist Church to tell his parents "you can't raise no boy like that! What good is he going to do you on the farm?!" So the state authorities came and took baby Clovis away to a "home." The only time he got to come home was on Christmas and the Fourth of July. Grandpa Trundell and Uncle Carl would go get him and then take him back. When Clovis turned thirteen years old they put him in the laundry room at the home.
Meanwhile, his brothers Homer and Dalvin were getting better and better on their instruments. When Homer turned sixteen he got his driver's license and Dalvin and he stole their daddy's truck and went and got Clovis. A couple of days later the state showed up to get Clovis back. Grandpa asked could the family play one song before Clovis had to leave. The authorities allowed them a farewell tune. As they started playing, Clovis went over and picked up his mama's washboard and started playing along! The state saw that Clovis belonged at home with his family and with them playing in the family band the state would not have to continue keeping him up. So with Cousin Ray on fiddle, the family has been together on the medicine show trail ever since.
The Drovers Old Time Medicine Show play hardcore bluegrass like it used to be played. The way Bill Monroe, The Stanley Brothers, and Flatt and Scruggs used to do it. They are there on stage to entertain the folks in the way that past Grand Old Opry stars such as Roy Acuff, Uncle Dave Macon and early string bands such as The Skillet Lickers and Fiddling John Carson did.
Option magazine said "you could drop them into the middle of a 1930's radio broadcast and they would fit right in."
Creative Loafing (Entertainment Guide) said "these days it's harder to find legendary bluegrass musicians in the Carolinas, but at least one bluegrass legend survives" Baker Maultsby (Editor; now at Spartanburg-Herald)
So when you see The Drovers Old Time Medicine Show performing out in the sunshine at some bluegrass festival, at a senior citizens home, at a children's hospital, or on stage at some smoky club, where they've shared the stage with the likes of: Ralph Stanley; Ricky Skaggs; The Osborne Brothers; Carl Story; Junior Brown; The Soggy Bottom Boys; BR549; Laura Cantrell; Leon Redbone; Cracker; Steve Earle; Southern Culture on the Skids; and The Drive-By Truckers. You'll be seeing a band giving 110% to the audience. Whether they're playing for the most money they've ever made or playing for charity. This band just loves to pick!