---
Olympic Hero Caught In Compromising Photo
Michael Phelps, the Olympic swimmer and winner of eight gold medals in last summer's Olympic games in Beijing, and hero to every American, seems to have had a little too much fun in his visit to our town. A photo surfaced of Phelps guzzling from a moonshine jug while attending a cockfight. In the photo, Mr. Phelps also had his hands all over local dress shop owner, Jenny Heart, whose dresses are always have off.
Pickens County Sheriff, David T. Stone has vowed "to hunt dat there swimming boy down and brang him back here to Pickens County. Nobody gets away with breaking the law in this county, I don't care how many gold medals he's won!"
There has been a backlash locally against the sheriff because he blew the sheriff's office's entire budget for the year in February investigating Phelp's case. But Sheriff Stone says he is confident that they will bring Phelps to justice and collect the $100 fine and "I don't care if the rest of the country thinks this makes South Carolina look stoopid or not!"
Spring Dance To Return To Prater's Creek High
An event that was the highlight of every teenager for decades has returned to Prater's Creek High School. The Spring Dance, which was held every May from 1910-1999, was stopped because of the rise of teenage pregnancies, which were all blamed on the dance.
Principal Lewis Lockabee said "it's time to bring the dance back. We're just gonna have to have mandatory abstinence classes for the students to attend. Ten classes and you are allowed to go to the dance. We'll also have mandatory anti-drinking classes for the students to attend. The students will have to attend ten of these classes also to earn the privilege of attending the dance".
Principal Lockabee also added that local rock band The Minor Birds will be providing the evening's musical entertainment.
Miracle On The Judson
It was about noon that Uncle Carl was working in the loft of Grandpa Trundell's barn, taking a moment to put in a hearty portion of Hornet Twist Tobacco, when he accidentally tripped on a pitch fork and fell backwards out of the barn loft door. Uncle Carl made two summersaults before landing on the widow Frawley's ornery old bull, "Buttercup", that had wandered by. The bull snorted and took off like a bullet, right by Grandpa's blacksmith shop where Cousin Ray and Dalvin were making a new set of shoes for Sparky, the band's mule. Uncle Carl and the Bull headed out through the woods where a flock of wild turkeys were feeding and flew right into the bull. Sheriff David Stone was visiting Grandpa Trundell on a matter unrelated to the event that was unfolding when he happened to notice Uncle Carl covered in turkey feathers mounted on the wild bull headed for town.
Below is a transcript of the events that would unfold:
Sheriff Stone: What's the Trouble!
Uncle Carl: Hit Wild Turkeys we're losing thrust, returning back towards Frawley's Corral.
Sheriff Stone: OK. You need to return to Frawley's. Turn left heading out the Old Wagon Road.
Uncle Carl: Yes, The Old Wagon Road.
Sheriff Stone: Dispatch, stop all traffic on the Old Wagon Road. Got an emergency returning.
Dispatch: Who is it?
David Stone: It's Uncle Carl. Bird strike. He's on the Widow Frawley's Bull. He's returning immediately.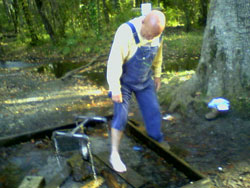 Dispatch: Got it.
Sheriff Stone: If we can get it to you, do you want to try corral 1or 2?
Uncle Carl: We're unable. We may end up in Judson's Duck Pond.
Sheriff Stone: All right, Uncle Carl, it's going to be left traffic to corral 1.
Uncle Carl: Unable.
Sheriff Stone: Ok. What do you need to land?
Uncle Carl: Anything in Prater's Creek, maybe Smith's Grist Mill?
Dispatch: The pasture behind Livwright's Store is available if you want me to clear traffic.
Sheriff Stone: Off to your right side is Jim Bob Coles Livery Stable. Do you want to try Coles?
Uncle Carl: No. Too close to Prater's Creek Grammar School, kids are in the yard for recess.
Todd Livwright: Does he need assistance?
Sheriff Stone: Yes. It was a bird strike. Can I get in gate one behind your store?
Livwright: Gate one, that's good.
Uncle Carl: We can't do it.
Sheriff Stone: OK, which gate would you like at Livwright's?
Uncle Carl: "We're going to be in the Judson".
"We're going to be in the Judson" was the last words anyone heard from Uncle Carl until the spectacular landing in Judson's Duck Pond. Witnesses remarked that Uncle Carl grabbed the bulls tail and with a big yank turned away from Prater's Creek Grammar School, saving injury to the little children, landing directly into the pond.
Uncle Carl had no injuries but was administered half a bottle of Dr. Trundell's Medicinal Tonic to help with an upset stomach for swallowing half a length of Hornet Twist Tobacco.
Prater's Creek's Mayor selected a day of celebration to honor Uncle Carl for his heroic action. Uncle Carl was awarded the Key to the City, the prestigious Bent Nail Award, and a rusty Cow Bell. When reporters asked of his heroism to protect the Grammer School Kids, Uncle Carl Replied; " I was only doing my job".
Former President Bill Clinton heard of Uncle Carl's heroic deed and came to Prater's Creek for the celebration to honor the friend he met on the campaign trail. President Clinton brought his short neck tenor banjo and requested that the Drovers Old Time Medicine Show back him and Uncle Carl on a rendition of "Shall We Gather At The River" to close the ceremony.
Inauguration Party Ends In Arrests
An inauguration party at the Prater's Creek Retirement Home turned violent when a huge brawl broke out in the television room. Leroy Jackson said he heard a disparaging remark about "blacks". He confronted the man, Strawberry Belcher, about the remarks and a fistfight ensued. Soon there was a fifteen person brawl with walkers, canes and oxygen tanks being used as weapons.
When order was restored, it turned out that Mr. Jackson didn't have his hearing aid turned up and the remark was about the black side in a checker game Mr. Belcher was playing. Mr. Jackson and Mr. Belcher shook hands and Mr. Belcher said "Leroy, let's go drink out of the same water fountain and watch the rest of the inauguration".
Local Fiddler Questioned In Splaying
In a story we have been reporting on in the past few issues of The Gazette, the demise of Mike Cord is still being investigated. Local fiddle player, Cousin Ray, of The Drovers Old Time Medicine Show, was called in for questioning by the sheriff's office in the splaying death of a Mike Cord.
In a transcript from the sheriff's office, Cousin Ray told the sheriff: "I ain't killed nobody! I don't even know this Cord fellow." Sheriff Stone then reminded Cousin Ray that in the Fall 2008 issue of The Gazette, Cousin Ray talked about "Mike Cord and how he worked for The Drovers Old Time Medicine Show, and Cousin Ray referred to him as 'Blue' and 'having to put him down'". To which Cousin Ray responded "Don't taze me bro'!".
Rest assured dear reader, The Gazette will follow this story to the end.
Polecat Day Draws Record Crowds
Philo, the prognosticating polecat, did not see his shadow and correctly predicted that winter would end early. Our town thought they would rip off Pennsylvania's Punxsutawney Phil like every other part of America does to reap the benefits of tourists coming to town to see a rodent come out of a hole and predict the weather.
And it worked. Folks from as far away as Cateechie came to drunkenly view Philo come out at dawn. By all estimations, there were at least two dozen people in town for Polecat Day.
Sin City vs. God's Country
The city of Las Vegas has had many business conferences cancelled by large corporations after President Obama admonished the companies for spending money on such frivolous trips. These companies are afraid what it might look like to the nation's poor if they are out in Sin City blowing money in the casinos and on hookers.
In an effort to offset the losses from the conference cancellations, the city of Las Vegas has begun an ad campaign called "Las Vegas/smalltown", where they bring citizens from a small town to Vegas. The city contacted Mayor Jones about having citizens from Prater's Creek go out to Vegas, but Jones politely turned down the offer. But the idea occurred to him to have some Vegas folks come here.
Two busloads of them came in mid January, and by all accounts, had the times of their lives. Roxy Steed, a Vegas showgirl, learned to crochet at the Prater's Creek Knitting Bee. Sam Young, who runs the craps table at Bally's, said he had a great time skipping stones across the creek. And a couple of Las Vegas ladies of the evening fell in love with our town and decided to stay. Roxy Carmichael, one of the ladies, got a job at Jenny Heart's Dress Shoppe. The other lady, Savannah, hasn't found work yet, but is doing "an odd job here and there for Grandpa, that singer for The Drovers Old Time Medicine Show, to earn a little money".