---

All Horoscopes This Issue Are Fortunes From Bazooka Joe Comics!!
ARIES (MARCH 21-APRIL19) A Penny Saved Makes Cents
TAURUS (APRIL20-MAY20) A Penny For Your Thoughts, But I Expect Change
GEMINI (MAY21-JUNE21) You Can Make It Happen
CANCER (JUNE22-JULY22) You're On Top Of Everybody's List
LEO (JULY23-AUGUST22) The Early Bird Gets The Worm. Some Reward!
VIRGO (AUG.23-SEPT.22) Bazooka Joe Wants You To Be In His Company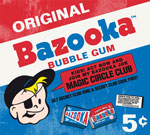 LIBRA (SEPT.23-OCT.23) Your Success Is Only Limited By Your Desires
SCORPIO (OCT.24-NOV.21) Before You Say It Or Do It, Think It!!
SAGITTARIUS (NOV.22-DEC.21) Your Homework Is Like A Juicy Steak--Barely Done
CAPRICORN (DEC.22-JAN.19) Let Nature Takes It Course And Hope It Passes
AQUARIUS (JAN.20-FEB.18) To Err is Human. So, What's Your Excuse?
PISCES (FEB.19-MARCH20) Don't Jump To Conclusions--You May Fall On Your Face