---
---
In Memory:
LUX INTERIOR
Lux Interior, lead singer for legendary punk band The Cramps, died February 4 of heart problems. There was a dispute over his age, he was either 60 or 62 years old. He was born Erick Lee Purkhiser in Stow, Ohio.
He married Kristy Wallace , who went by the stage name Poison Ivy, and they both shared a love for rockabilly and surf music, and campy B-movie horror flicks. They combined these elements and in 1976 formed The Cramps, and called their music "pyschobilly".
The Cramps became a fixture in the New York City punk scene and soon they were slaying audiences all over the world. With Lux wearing too tight black leather pants and women's pumps, he was like an Elvis from
hell. And playing lead guitar was the beautiful Poison Ivy.
They released great albums such as, their debut EP Gravest Hits, which they recorded at Sun Studios with Alex Chilton producing. The first album I heard was Bad Music For Bad People back in the summer of 1984. It was a kind of "best of", full of previously released songs such as "Garbageman", "Human Fly" and a little song called "She Said", which was a Hasil Adkins song.
I'm a human fly, I spell it F-L-Y
I got 96 tears and 96 eyes!
Soon, I was buying every Cramps album that came out. They never had a top 40 album or single, but to my friends and I, albums such as Songs The Lord Taught Us and Stay Sick with songs such as "Goo Goo Muck", "Cornfed Dames", "Bikini Girls With Machine Guns", "Dames, Booze, Chains, and Boots", and classic covers like "Muleskinner Blues" and "Shortnin' Bread" were as good as music could be.
The music world is gonna miss Lux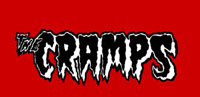 Interior. If there is a rock and roll heaven, I'm sure Elvis is telling Lux right now "Boy, you done it right! You didn't compromise your music or your integrity." And he's also telling him "I liked swallowing a handful of pills and putting on Priscilla's high heels but was afraid to do wear them onstage. Like I said, you done it right!"
Movie Review: Hotel For Dogs
Let's see, the movie was lightweight family fair, with a bunch of cute little doggies. BUT, it starred Emma Roberts, therefore making it one of the greatest movies of all time!! As good as Aquamarine. Even as good as Nancy Drew. Maybe better, because Emma is getting more beautiful every day.