---
---
JERRY CLOWER: The Mouth Of Mississippi
"Awwwww!" "Knock him out John!" "Marcel, Odell, Eugene, Cloooris" My daddy and I would go fishing with my good friend Joel Hill and his daddy, Dean, tying up under a bridge down on Clark's Hill (now called Lake Thurman). Dean had an 8-track player in his boat, and as we sat there all night crappie fishing, we'd listen to Jerry Clower. They just seemed to go together.
Jerry Clower was born on September 28,1926 in Liberty, Mississippi. He joined the Navy the day after graduating from high school, and when he returned he played football on scholarships at Southwest Mississippi Junior College and at Mississippi State. This was hilariously talked about in one of his routines: "The first college football game I ever saw, I played in!"
Clower later became a seed salesman in Yazoo City, working eighteen years in that business. He often told funny stories about his childhood to make sales. After speaking at a Dairy Convention, and telling the great "Coon Huntin', he started taping his routines. With the help of one of his good friends, he recorded and released his first album. At first he only sold his album at his speaking engagements, but it found it's way into Nashville's Grant Turner who got it airplay on WSM. Soon MCA signed him in 1971 to a record deal, and nationally distributed Jerry Clower From Yazoo City, Mississippi Talking. That album quickly earned gold record status and a star was born. He even had records on jukeboxes. The album stayed on the Country Top 20 charts for thirty weeks. Clower was an overnight sensation at age 45. He became a member of the Grand Old Opry in 1973.
Many of his stories involved the Ledbetter clan, a real family he grew up with in his hometown of Liberty, Mississippi. Marcel Ledbetter was Clower's best friend and the main character in most of his stories. Clower didn't tell jokes that had a rimshot punchline. He told funny stories or more correctly, as he said, "I don't tell funny stories, I tell stories funny".
Jerry Clower died in 1998 after having triple bypass surgery. But his legend lives on. He was a good 'un.
WHEN IS "TOO OLD"?
When an athlete or an entertainer gets on up in years, it can be painful to see them struggle to turn in performances that are mere shadows of their former achievements. In sports, the athlete usually is cut from the team or asked to resign, or in a sport such as tennis or boxing, they just get beat. But many times in boxing, if the boxer can still put paying customers in the seats, he can stay in the ring way past his prime as Muhammad Ali did.
When I was younger, and not yet in a band, I always thought that a musician, especially rockers, should know when to quit before becoming an aging parody of themselves. Hearing The Who sing "I hope I die before I get old" when they were way past 40 made me sick. Mick Jagger famously said he didn't want to be a Rolling Stone at 40 and singing Satisfaction. But he's dang near 60 and still singing it. I liked what Neil Young famously sang: "It's better to burn out than to fade away".
But then I started listening to lots of jazz, bluegrass and country where it was normal to be an old guy up there performing. Then I started playing in bands and understood why a person would not want to quit performing. It's not any glory or monetary gain, but the music is like air, food, or water. You can't quit or you'll die without it.
When you go hear these people, maybe they are decades past their prime, but maybe there will be one piece of magic in their performance and you have to enjoy that one little piece. Having said that I now present:
An Open Letter to NEIL YOUNG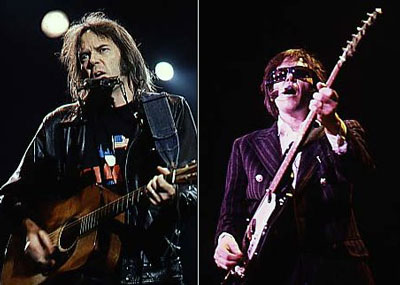 Dear Neil,
Nobody in music history, outside of Mr. Zimmerman, has produced so many great, great albums. I'm not talking about just the ones everybody else loves, albums such as Harvest, Zuma, After the Goldrush, Comes A Time, Rust Never Sleeps, etc. But albums like Time Fades Away, Tonight's The Night, Reactor, Hawks and Doves, and Trans. But you haven't put out a good album, much less a great one, since 1994. But you continually put out at least one album a year. I mean Greendale?! You said you came into the studio and wrote a song a day and recorded it. Well, it sounds like it. There's not one decent song on the CD. The one before that, Are you Passionate? ,had one good song, the one with Crazy Horse.
How about doing a little, no, a lot of, self-editing and keep the one or two good songs you write a year and save them for what would be a great album every 3-4 years instead of a lame one, or two, every year?
Sincerely,
Irving O. Tarbox
Gazette Music Editor
JAMES BROWN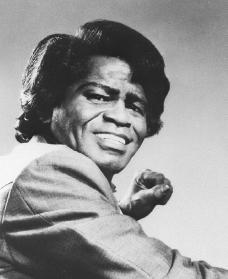 Way back in 1983 my fiancée had dumped me. These are referred to as the" Had A Bad Day Today (And Tomorrow Ain't Gonna Be No Better)" days, which resulted in my starting this band and our writing our first song.
One night I came home from my shift at Starvin' Marvin and James Brown was on the old David Letterman Show on NBC. I can't remember which song Brown performed, either "Get Up Offa That Thang" or "I Feel Good/Sex Machine", but it lifted my spirits and help me to start getting over the worst heartache of my life.
Bands such as Talking Heads and Gang of Four had got me back into funked up dance music and seeing Soul Brother #1 on TV that night sent me wallowing in the funk for the next two years.
Way, way back in 1974, on one Friday night, instead of In Concert, ABC showed the legendary T.A.M.I. Show from the early sixties. Legend has it that after James Brown's performance, the Rolling Stones ran back to their dressing room to decide whether they could follow him. James had brought the house down with "Please, Please, Please" and the whole cape act. Supposedly, The Stones put it to a vote whether to follow Brown, and that the vote was 3-2 to go on out and play. Years later Ted Nugent said his main inspiration was to try and make his fingers move on the fretboard as fast as James Brown's feet had moved on the T.A.M.I. Show. (The first time I saw the Nuge he ended his concert with the cape act.) When The Rolling Stones did come out, they looked like deer caught in the proverbial headlight. I was bummed that In Concert wasn't coming on that night, but I got my first lesson in Soul. That same year, my freshman year in high school, a black dude named Edward Evans in my homeroom would write "Soul Brother #1" and/or "Godfather of Soul" on the blackboard every morning. The next Monday after I saw the T.A.M.I. Show I told him that I'd seen it and that "James Brown is baaaad!"
I got to see James Brown in person a few times. One notable night in Atlanta at the Fox Theater in 1985, my friend Sean Gould and I were in our T-shirts and jeans and the rest of the predominantly black audience was dressed to the nines in suits and fur coats. Outside, I never saw so many Cadillac's in my life! And James tore the house down.
This world will miss The Godfather. He was an American original. No other country in the world could produce a genius like him. Now get up offa that thing, it's time to relieve the pressure!