By Irving O. Tarbox
---
SPECIAL TO THE GAZETTE
It's the time of year when the kids are back at school, the leaves are turning, high school football is the main topic down on the front porch of Livwright's General Store, and there is plenty of moonshine, I er mean cider, hard cider. Really hard cider. Cider so hard you'll fall in love with a girl from New Jersey! Yep, it is Fall in these parts.
There are many activities planned in our town to celebrate this time of year. Prater's Creek High School will be having their Halloween festival again this year. The Gazette asked Principal JC Cluggins why they still call it a "Halloween" Carnival instead of "Harvest", "Autumn", or "Fall" Carnival or Festival like other high schools across the country have done in the past few years. "Well, it's like this" Cluggins said, "We always called it a Halloween Carnival when I was growing up. We ain't gonna go changing the name or the theme just 'cause some other schools are scared of Halloween being associated with Satanism or stuff like that! It's still a party for students to get dressed up in scary costumes, bob for apples, you know harmless stuff."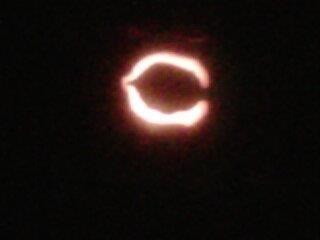 Mr. Cluggins also said that he hopes the students "aren't afraid to "TP" my yard, and to light bags of cow manure on my front porch, ring my doorbell and run. Just like we did to our principal when I was a student here".
Other activities planned in town this Fall are hayrides, the pumpkin carving contest at Livwright's General Store, "Sew what?!" sponsored by the Prater's Creek Sewing Bee, and a reenactment of the first Thanksgiving dinner shared by town founder Enos Prater and the Cherokee Indians he befriended. Thanksgiving weekend also will be a cornucopia of music at the 10th Annual Wild Turkey Music Festival to be held in the big barn on The Drovers Old Time Medicine Show's farm.
---