By Irving O. Tarbox
---
SPECIAL TO THE GAZETTE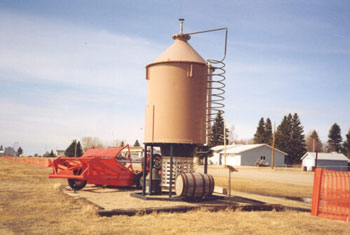 Are the days of clandestine trips to and from a hidden still over? Will local moonshiners, long the scorn of law abiding citizens, but at the same time the main economic stimulus of Prater's Creek, now be respected businessmen?
This might be the case with the impetus on making ethanol these days. With gas prices rising more and more everyday, many folks are driving, or looking to purchase, hybrid automobiles that run on ethanol.
Grandpa, of The Drovers Old Time Medicine Show, is not surprised. "Ah yeah" Grandpa said, " We been running our truck on corn likker for years. "Oh heck yeah" said Cousin Ray, "Me and Uncle Carl fixed that ol' truck engine up so it'd burn Grandpa's elixir."
There has been talk of an ethanol plant being built here in Prater's Creek that could produce 1000 gallons a day. "Whoooee!" Dalvin,of The Drovers Old Time Medicine Show, said. "Grandpa can only run off a gallon or two a day!"
"Why that's just gonna put the little man out of business" Grandpa angrily told the Gazette.
The plant may not be built however, not because of complaints from local moonshiners, but because of the repercussions from a scouting trip some big time oil executives took to our town. Or, more correctly, concussions. It seems them oil executives got into big trouble when their wives found out about their wild time here in town.
Bill Tinsley, from Texas United Refineries Division, David Martin, from Gulf Oil United Gasoline Enterprises (G.O.U.G.E.), and James Williams from Organization of Gulf Refining Enterprises (O.G.R.E.) were in town to scout out the logistics of building the ethanol plant. Some executives had met The Drovers Old Time Medicine Show when the local bluegrass band played a swanky party for the big oil folks. Word got out that Grandpa's elixir packed more kick than any high octane fuel that they had ever came across. And it gave you big buzz too!
So Tinsley, Martin, and Williams were sent down here to get Grandpa's recipe. The first night they were in town they had the big greasy cheeseburger at the Six Mile Cafe. The next day, Dalvin and Cousin Ray showed the men around town, and then that night they ate at the B&B BBQ. The second day, Cousin Ray and Dalvin were joined by Uncle Carl, as them three oil fellas saw our town again.
"Didn't we already see all of this yesterday?" asked Tinsley. "I was thinking the same thing" nodding in agreement GOUGE's Martin said. Dalvin told the men "Yeah, we saw all there was to see yesterday" to which Cousin Ray added "Y'all wanna go back over and sit on the porch at Livwright's General Store and whittle some more?" "No!", OGRE's Williams quickly said, "and we don't want to go skip rocks on the cow pond again! Isn't there any fun to be had in this, harrumph, 'Hillbilly Heaven'?!" "You boys want to show you how to play 'Clinch Mountain Backstep' again?" Uncle Carl politely asked, "Y'all almost had it". "NO!" the three oil execs yelled.
Then Grandpa pulled up on the medicine show wagon, pulled as always by Sparky the Mule. "You fellas wanna sample some eilixir?" Grandpa asked the men.
The next day the oil exec's wives were in town to bail their husbands out of jail. In addition to drunken charges, two of 'em were also in trouble for polygamy having married Jenny Heart, proprietor of Jenny's Dress Shoppe.
So until that ethanol plant gets built you'll just have to "lay down a dollar or two" and "stroll around the bend and come back again"!
---