By Irving O. Tarbox
---
SPECIAL TO THE GAZETTE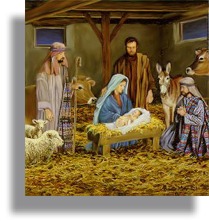 Thereís no place in the world that celebrates the Christmas season like Praterís Creek, SC. And the townspeople seem to be even more excited about the Yuletide season this year than ever before.
Many activities are going on this season such as the contest to see who has the best-decorated house. Gertie Johnson says, "this is my year to win that hog! (The grand prize)". The 45th annual Christmas Pageant will be held at Praterís Creek High School, and this year, along with the Christmas Beauty Contest, the Pageant features a play by Praterís Creek High drama teacher Horace Limestone. "Itís a play about Christmas" Mr. Limestone explained. "Itís called ĎThe Christmas Playí".
Over at the town square there is a live Nativity Scene every night from 6pm until 10 PM. Along with local citizens playing the part of Joseph and Mary, and the three wise men, the scene prominently features farmer Mac McCalisterís cow, "Marabelle", and his prize-winning hog, "Major Tom".
While a lot of towns have shied away from such religious displays on public property, Mayor Allen Jones insisted that the Nativity Scene be displayed on the courthouse lawn. "We had a threat from the ACLU about it", Mayor Jones explained. "They sent a fella down here to threaten us with a lawsuit but, after visiting the town and meeting and spending time with some of the town folk, he changed his mind. Matter of fact heís playing one of the shepherds. But he says he now feels like a ĎWise Maní".
When asked about what the people from other religions in the area say about this Christian display, the Mayor said, "Well, we do have some folks of other religious persuasions living here in town now. We even have some Catholics. I donít know exactly what they celebrate around this time of year."
When it was explained to Mayor Jones that Catholics celebrate Christmas just like Baptists and Methodists do, his honor replied "Well, Iíll be dadgum". "How about Kwanzaa?" we asked. Mayor Jones had this reply: "When I was in the service I stayed in a Quonset hut on base. But it werenít nothiní to celebrate".
Mayor Jones said he "wants to see everybody in town at these events" and he added "Merry Christmas and Happy New Year!!!!!"
---