By Irving O. Tarbox
---
SPECIAL TO THE GAZETTE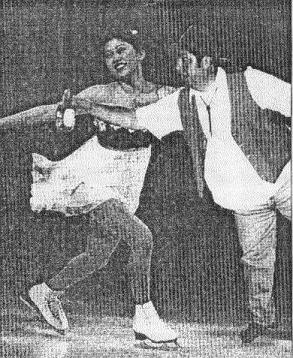 As reported in the last issue of The Prater's Creek Gazette, Grandpa Trundell of The Drovers Old Time Medicine Show, with the help of Pickens County's top scientist, was working on a plan to freeze his pond during the summer. Grandpa, after the release of the bands new CD "Melissa's Waltz", and after the crops had been Harvested, had some time on his hands between concerts. He begin devoting all of his free time to a pond freezing plan to bring 1992 Olympic figure skating gold medalist Kristi Yamaguchi to the band's farm to skate around on their pond. With a "Pond of Dreams, freeze it and she will come" kind of cockeyed scheme, Trundell and his crack team of scientists came up with a formula they thought might work.
In late October, they were ready to try the new formula; a "forty" of Bud Ice, some black market Freon, and the sweat from Linda Tripís upper lip. Trouble was that Grandpa had already talked to Yamaguchi's manager and had scheduled the skater to perform at the Drovers' farm the afternoon of the testing of the new formula.
The day of the test, and of the skater's scheduled appearance, was, like most of October and November, a unseasonably warm. Testing was not going very well. The pond was not freezing. The science team's leader, Dr. Jonas R. Massey. Told this reporter that "the weather is just too hot. We'll have to go back in the lab for more research." When asked how long that could take, Massey said Weeks, months. Who knows?"
Grandpa Trundell was very upset over the failure of that morning's tests and the probability of Yamaguchi arriving with no ice on which to skate. "What am I gonna do? He kept repeating, all the while wringing his hands. This was occasionally punctuated with "She's a gonna think I'm stoopid!" His grandson Homer Brought him a jug and said "Here Grandpa, this'll help your nerves!"
By mid afternoon Grandpa Trundell had gone thru two entire jugs of his elixir and uncorked a third when Uncle Carl grabbed it from him saying "Grandpa, you've had enough. That skater girl will be here any minute!" Grandpa, in the worst shape this intrepid reporter has ever seen him in, stumbled backwards kicking the freshly uncorked third jug into the farm pond. "Well I be dad gummed! I didn't even get a drink out of that UN" Grandpa hollered. "Look y'all!" Dalvin yelled, pond! It's freezin'!!!" Sure enough, the pond was frozen solid.
Dr. Massey exclaimed "Trundell what's in that elixir? It's frozen the pond!" Just then, "America's Sweetheart" pulled up in her limo, got out, and greeted her hosts. "It is an honor to be here in Prater's Creek to skate on the Drovers' pond," she said as she took the ice. For over two hours, she delighted the locals and even Grandpa got to skate with her. Later, Yamaguchi uncorked a jug, took a big drink and said "This tastes pretty good, and it makes some good ice! Just don't let Oksana ever have any."
---