By Irving O. Tarbox
---
SPECIAL TO THE GAZETTE
Itís Springtime: the weather is turning warm, thoughts turn to love, and baseball, and little red clay mounds are popping up all over your lawn or pasture. Itís time to do battle against Solenopis Invicta: The Fire Ant.
Scientists have been trying to come up with a solution to the fire ant problem for years. Many people have sworn by solutions such as pouring gasoline, boiling water, and even hot grits on the anthills.
The Red Imported Fire Ant (RIFA) came to the United States in the 1920ís from South America. They arrived via the ballast of ships to a port in Mobile, Alabama. After World War II, the fire ant spread as the post-war housing boom took off and the ants were in grass sod and ornamental plants used for landscaping.

The ants mate in the Spring and Fall, when temperatures are between 70 degrees and 95 degrees, and the humidity is near 100%. After mating, a queen can travel up to 2-three miles. A queen will lay between 100,000 and 300,000 eggs a year and she can live 6-7 years. Thatís a lot of eggs!
Recently, scientists have been trying to use a fly that will lay an egg in the neck of the ant and kill it. But results have been mixed and slow at best. But local bluegrass band, The Drovers Old Time Medicine, says they have the solution: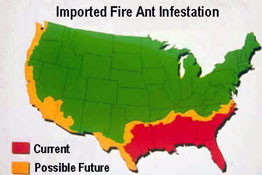 Moonshine!
"Yeah, we started pouring it on them ant hills," said mandolin player Homer. "When Grandpa first saw us doing it, he started yelling ĎWhy you wastiní good brew like that boy?!í But when we showed him how his home-brew killed them there ants, he doubled his elixir making. Half for us and half for them dadburn ants!"
"The ones who ainít dead" added banjo player Uncle Carl, "are just too drunk to work anymore and they fight with the queen."
---